I love the Indonesian traditional musics. Not only am I an Indonesian, but everytime I hear the music I could feel the honesty, modestly, and simplicity, furthermore; it has various and mixed feeling. I may feel many different sensations of sadness, hapiness, and courageousness just listening to one song - something I rarely find in modern music.
I have collected many cassettes and CDs of Indonesian musics and traditional ethnics. Some of them are:
The overly emotional Tarling (dangdut-like) Song that commonly could be found in coastal area of Indramayu and Cirebon, West Java
Kecapi Suling of Sundanese music
Gending of Javanese music
Gambang Kromong of Betawi (native Jakartans) music, and
Some good, classy, and classic Dangdut songs.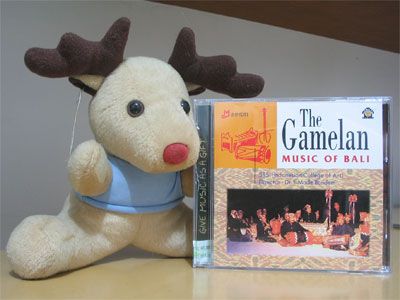 And this afternoon, I just bought "The Gamelan Music of Bali" CD, making my CD cabinet fuller and tighter. I have listened some songs though. In my opinion, Balinese Gamelan is terrific, dinamic, loud, swift, and aggressive. So it's worth paying Rp 40.000 for the CD though he he...
Well, in the next following weeks, my stereo set would only play Balinese Gamelan untill I get bored :-p