Last Friday, I visited another wedding invitation. But, this time, the occasion was still held in Jakarta. It took place at multipurpose hall of an Islamic boarding school near the resident of former Indonesian President's Abdurrahman Wahid (Gus Dur) in Ciganjur, South Jakarta.
There are two main reasons why the wedding was quite special. First, both the groom and bride were my school-mates. Even though I met with the groom two times last month before the marriage I had never met with the bride since I graduated from Junior High School. Thus I really miss them. And the last, both are the real-native Jakartans or 'Orang Betawi Asli'. Certainly, the marriage was held using Betawi custom. And I am always happy to see and feel the aura of Betawi tradition. In my opinion, since Jakarta becomes the Capital City of Indonesia, the custom, tradition, and culture of Betawi are gradually extinct.
On one hand, the nuptial agreement was held on Friday morning. On the other hand, Friday is the day that people regularly go to the office. Therefore it was impossible for me to follow all the processes of Betawi wedding ceremony. I only caught up the reception or party in the afternoon. So I couldn't tell the complete story of Betawi marriage processes. However you can read this Indonesian-written article about the Betawi marriage. I apologize that I haven't got the English version.
Okay, here are some pictures I took during the reception.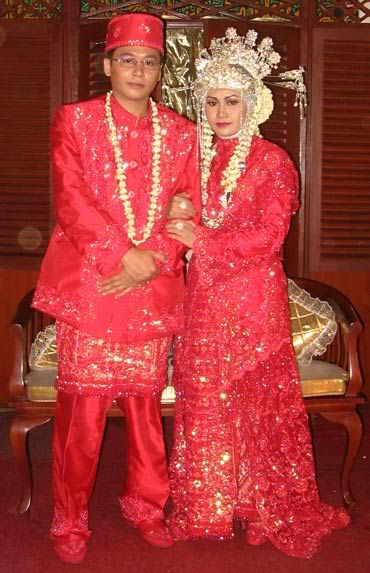 The groom and bride wearing traditional Betawi dresses
I don't have pretty good knowledge about dress, design, and style. But, in my humble opinion, I really like the red dresses they wore. Absolutely beautiful, glamorous, and full of complicated motif.
Notice the furniture behind them! So Betawi nuance, unique, and ethnic I think. It reminds me the old days of Betawi. Before I moved to my current home at Depok, West Java, I used to stay in a place where there were lots of Betawi people lived. Some kind of nostalgia though.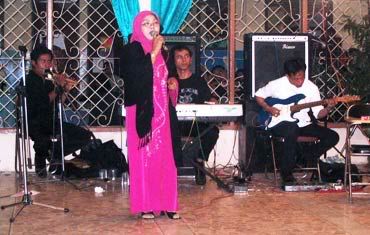 A local band performing Qasidah and Arabic songs
As well as Dangdut and Jaipongan in Sundanese Wedding party, Betawi marriage also has an entertaining performance. It has a female-singer band. They performed some Arabic songs and Qasidah (dangdut-like music but more religious). The music instruments were minimalist and simple. There were only a flute, a keyboard, a guitar, and no drum. However, I loved the Arabic songs they played. That's why I think the band was pretty cool. Most of the Arabic songs' lyrics I heard were about love. Deep love of their beloved couple based on God. There is no pure love unless the love of God that is eternity and immortal. I understand a bit of Arabic language though :)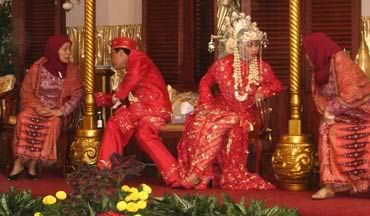 What are they talking about to each of their mother in law? :D
So that's the short and incomplete story of another Indonesian marriage which full of color, tradition, custom. I hope it could describe few of diversities of Indonesian culture.